Crop Circle Draws Crowds in France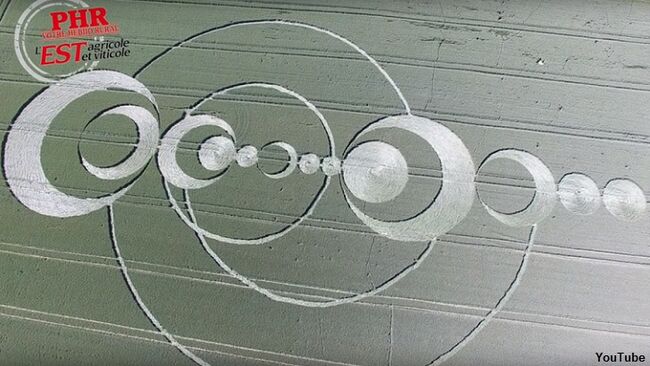 While crop circles may be synonymous with the UK in the minds of many, for the second time this month, a mysterious formation has appeared in France and the sizeable design has sparked something of a local sensation. The newfound formation, which measures a little over 650 feet in length and spans two separate wheat fields, reportedly appeared last Thursday in the small community of Saint-Hippolyte. The fairly complex-looking design features a series of crescents and circles not unlike a similar formation found a few weeks ago in France, albeit much larger in scope.
According to the farmer who owns the property, he did not see anything unusual at the time when he suspects that the crop formation was formed early last week. And although he observed that it appears as if the design was created "as if something had come from above," he was skeptical of the proverbial alien hypothesis, musing "I do not think it is the work of anyone other than an inhabitant of the Earth." The owner was also not particularly thrilled to have had his field used as the medium for the work and lamented that "it's a shame, for once it was a good season for wheat."
His consternation over the creation undoubtedly grew when this past weekend arrived and, along with it, scads of adventure-seeking locals eager to get a look at the fantastic formation which is a rarity in their country. Find out about the frenzy that erupted over the formation at the Coast to Coast AM website.

Coast to Coast AM with George Noory
Want to know more about Coast to Coast AM? Get his official bio, social pages & articles on iHeartRadio!
Read more